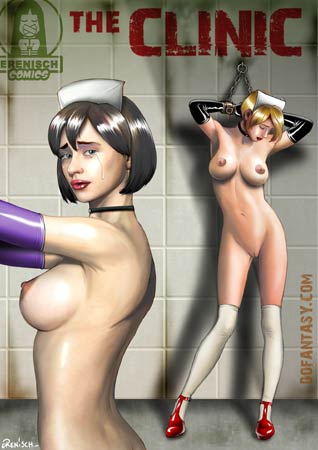 The Clinic
is now released by Dofantasy.
I have put down the plot and quickly penciled this comic back in Winter-Spring 2010. The initial title for the project was "
BFA Hospital
", but I changed it to "
Project SNG3: Nurse 18
" when it was drawn. As you can see, that was an awful title for a BDSM comic, so I shortened it to "
Nurse 18
" later. Still not happy with it, I finally renamed it to "
The Clinic
" as I started to paint. The lesson in this - Always keep it simple!
And I never seem to take that advice.
This comic has a lot of complex scenes. It looked like a good idea when plotting and penciling. But I cursed a lot to my past self while I was inking and painting it.
Anyways. It is packed with the stuff I like and I hope you will like it too.
Enjoy.
Available
here
.
(You may also want to read the
prelude story
I posted a while ago. It loosely ties the end of SF2 to this comic)