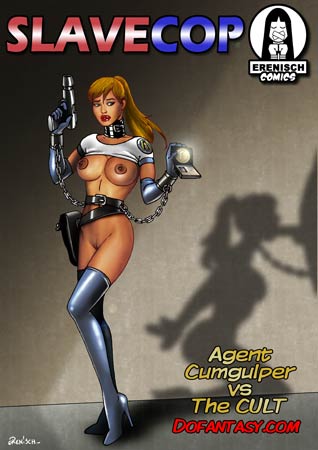 My new comic is out from Dofantasy. It takes place on the same timeline with my other works but it is a stand-alone story about a new heroine. This story was actually one of my earlier ones, it was written and penciled about two years ago (even before the birthday gift). I finally had the chance to ink and color this one after it waited at the back of my drawer for so long. It is better since I have added some cooler pages and weeded out weak ones, and also I got more skilled at coloring in the meantime. Hope you enjoy it...
PS: I also thank Chuck, Manos, Brigitte F, Yoop and many anonymous readers for their contribution.
Setting: Erenischian Future
By the year 2022, many countries have passed the '
Compulsory Female Slavery Law
' that legalizes the sexual use and trade in of nubile women over 18 years of age.
When a girl reaches slavery age, she can be bought and sold, hired and whored, and be used in every imaginable way. She becomes her owner's personal property.
In accordance to the slavery law, women-owners have to pay a certain slave-tax for each female they own. These taxes fund the infamous
Slavery Enforcement and Fugitive Retreival Unit
(
SEFR
)
of the
Bureau of Female Affairs
(
BFA
), better known by the public as the
SLAVECOPS
. In order to hunt down escaped slaves or locate stolen females, the
SEFR
uses an elite group of well-trained slavegirls handpicked from among the younger and smarter females confiscated by the Bureau.
Our story follows
Agent-slave Lidia Cumgulper
, a former college student and a recent graduate of the SEFR training program. When our gorgeous hound-whore was given an undercover mission, she finds herself in a mystery involving a cult-like criminal organization with a horrible secret...
(
Slavecop
is available here.)