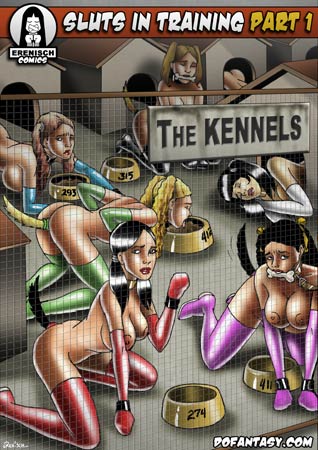 My new series "
Sluts in Training
" begins with
the Kennels
. The working title for this series used to be "
Female (or woman) Training Basics
" originally. But it didn't feel right, and I changed it several times.
"
The Kennels
" was a project I was planning to do since I finished "
Slave Fair
". I initially wanted to make it a Slave Fair spin-off (if you remember the road sign in
SF
, it was suggested that there were
Kennels
and
Stables
on the fairgrounds). It has since transformed into an independent project but you'll see several references to
SF
in this comic. (The sequel of SF, by the way, is on my to do list)
The heroine of this story is
Miss Kimberly Muttsson,
as revealed earlier. I kinda like her and want to use her in several other comics too, in roles big and small. Speaking of small roles, you may notice cameos of a few of my other characters in this story. I feel that I have enough parallel stories in this universe now, and crossovers can begin.
In summary, this story features
forced sex and bondage (duh!), plus a lot of petplay, humiliation, orgies
, etc...
Hope you enjoy it.
SiT1: The Kennels

is available
here.