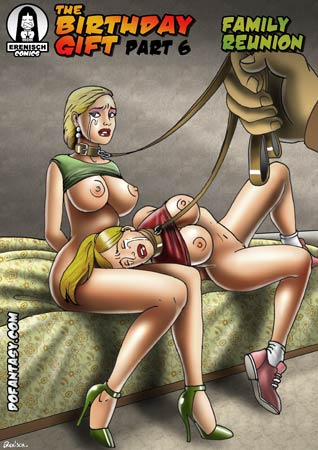 Sixth part of "
The Birthday Gift
" series is finally out. I have done a number of complex and crowded scenes in this episode. I hope you like it.
It is the sixth episode, and finally- it is
Maggie
's 19th birthday. Her mother
Carol
is introduced in this episode, and she is the main character of the story.
Also, we will see a little bit of the night life scene when
Cumbunny
,
Slutkitten
,
Sluttypig
and
Foxycunt
are led by their masters to "
Cumbath Club
", a new cool dive frequented by the town's depraved party dudes.
Hannah Cox
,
Chrissy Cummings
,
Regina Dupont
,
Andersonn Twins
,
Anna
and many other pretty girls also appear and suffer...
Also, two of the characters appear for the last time in the series... They will be missed... maybe...
Enjoy...
(
Birthday Gift
series is available here:
Part 1
/
Part 2
/
Part 3
/
Part 4
/
Part5
/
Part 6
)